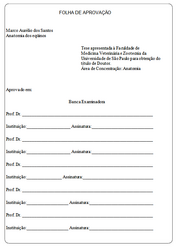 Espaço reservado para elencar a banca examinadora. Deve conter:
nome completo do autor;
título e subtítulo (se houver);
natureza do trabalho (dissertação ou tese);
nome da instituição a que é submetido o trabalho;
área de concentração;
data de aprovação;
nome, titulação, instituição a que pertence e assinatura dos componentes da banca examinadora.
Ad blocker interference detected!
Wikia is a free-to-use site that makes money from advertising. We have a modified experience for viewers using ad blockers

Wikia is not accessible if you've made further modifications. Remove the custom ad blocker rule(s) and the page will load as expected.